1. What technical support is available to you?
Provide consultation: Provide technical consultation for users to sell products without leaking our company's technical secrets;
User training: Provide necessary training for users who purchase our products.
Provide information: Provide the necessary technical parameters for users who purchase our products. (Sony all product parameters are from Sony's official website, copyright belongs to Sony!)
2. SGS test report query method
You can check the authenticity of the report by the link below. Http://rsts.cn.sgs.com/zh-cn/cheres_cn.asp
Enter the information and verification code as shown below, then click SEARCH to query the test report. If you have any questions, please ask or leave us a message!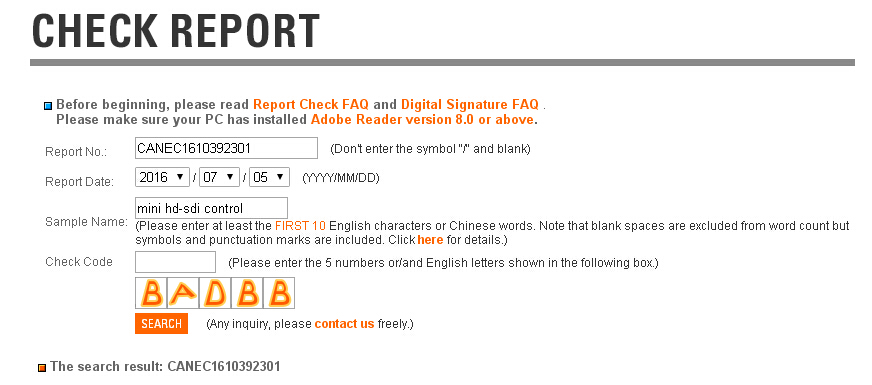 Sample Name:mini hd-sdi control
Note: Make sure your computer is installed with Adobe Reader version 8.0 or above (Adobe official website download: click to enter ).
PDF download address: http://rsts.cn.sgs.com/temp/201607/00000000/CANEC1610392301.pdf
Mini HD-SDI control board SGS test report query method:

SGS test report query URL:
English: http://rsts.cn.sgs.com/en/cheres_en.asp
Chinese: http://rsts.cn.sgs.com /zh-cn/cheres_cn.aspReport NO: CANEC1610392301
Report Date: 2016.07.05